Archy and Mehitabel provide insect insight into human nature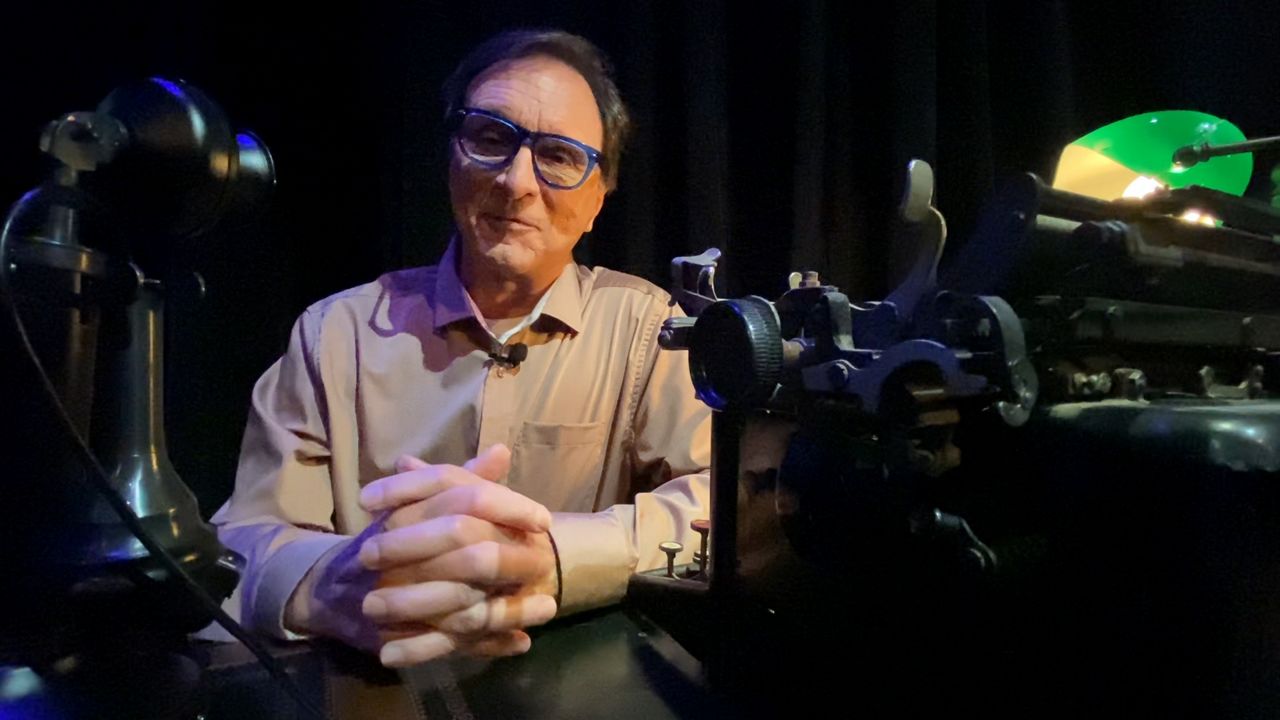 SHERMAN OAKS, Cali. "Have you ever wondered what a cockroach is thinking about?" Well, leave out an antique typewriter and you might just get the answer.
Actor Dan Gilvezan was in an old bookstore when he came across a collection of chronicles titled 'Archy and Mehitabel'.
The book, written by Don Marquis, was originally published nearly a century ago and is still in print, full of stories that revolve around a deep, observant insect.
"And the conceit was that a poet had died and his soul had transmigrated or reincarnated into a cockroach," Gilvezan explained.
The columns, which appeared in the "New York Evening Sun", date back to 1916. Archy the Cockroach doesn't just type casually on the old manual typewriter to create his poems. He is really invested in his work.
"He jumps on the keys of this typewriter," Gilvezan said, "and leaves messages for whoever he calls the Boss – the editor of the newspaper."
However, being a cockroach, he has limitations. For example, he can't hold down the Shift key "So all the columns that Marques wrote were lowercase, he pointed out," and there was no punctuation.
Gilvezan took these columns and turned them into an original piece titled The Secret World of Archy & Mehitabel. The show is populated by less than desirable creatures that inhabit what the cockroach describes as the underworld: rats, fleas, and spiders, to name a few. Archy's observations about them are actually reflections on human nature – reflections that remain remarkably current.
"Because believe it or not, we as human beings haven't changed that much in the last 100 years," Gilvezan says with a knowing smile. "We're still just as greedy, just as selfish, just as self-centered."
The exception is perhaps Archy's best friend, Mehitabel, played by Carolyn Hennesy.
"She's fiery," Gilvezan said.
"Well, absolutely," Hennesy purred, "but only in the best possible way."
Mehitabel is a little worse for the alley cat who claims to have been Cleopatra, among other royal reincarnations. It creates a dichotomy that Hennesy really enjoys playing. "She tries to maintain that aura of royalty and grace and class, a slight little superiority," she explained, "and then she eats fish heads."
Hennesy, a longtime animal activist and advocate, also finds the material incredibly timely and deeply moving. "It touches on the treatment of creatures that we have determined to be inferior to us, who are not," she said.
By writing through the lens of smaller and smaller creatures, Marquis was able to comment not only on culture and the human condition, but also on the issues of the day – issues like climate change, with Archy warning of a dire future and drier.
"So it's all universal and incredibly relevant and topical," Hennesy said.
Like it or not, Gilvesan expects audiences to find familiar personality traits in the vignettes, which are rife with greed, envy and selfishness.
"He's like my neighbor. My boss is just like that," he imagined the audience might say, adding, "Most people don't really admit it's them.
This isn't the first time he's played a bug. Gilvesan was the voice of Peter Parker in the animated series Spiderman and his Amazing Friends. His Spidey sense was already well developed, but now, by writing and inhabiting Archy, he has learned to be better at detecting pesky qualities.
"I try to remember what Archy tells us about being selfish and self-centered," he recalled. " Do not do it. Don't. It's not attractive. Best advice you're likely to get from a cockroach wearing a bowler hat.
"The Secret World of Archy and Mehitabel" runs through October 15 at the Whitefire Theater in Sherman Oaks.